A Welcome from the College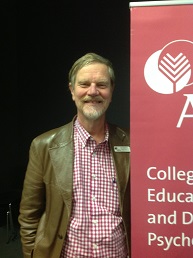 Welcome to the College of Educational and Developmental Psychologists (CEDP). We are a professional community of psychologists specialising in evidence based developmental and educational approaches to the wellbeing of the full spectrum of all people across all ages.
Our members can be found wherever there is a need or opportunity to enhance and adapt education across the developmental stages of life through the application of evidence based psychology, in roles and settings such as school psychologists, assessment and treatment clinics for children, disability services, research or teaching at universities, and in private practice etc.
In a market oriented world we know that it is not enough to simply have something of value to offer. 2017 is a year when the College has committed itself to focusing on defining our distinctives and building our 'brand,' and then onworking on ways of actively promoting our specialty, how and what we have to offer.
This website offers more information about who we are and what we do. For more information about the skills and qualifications of Educational and Developmental psychologists, please visit the About Educational and Developmental Psychology section. Advice about joining the College (How to Join) and about supervision (College Supervisors Directory) can also be found.
We are also very proud of our bi-monthly newsletter publication which allows members to stay connected with other colleagues and keep up-to-date with opportunities, resources, publications and continuing professional development. We welcome news and contributions all the time, please feel free to make contact if you have something to share.
John Roodenburg PhD FAPS MCEDP MCCOUNSP, Chair
APS College of Educational & Developmental Psychologists
Email: john.roodenburg@monash.edu



College Vision and Values Statement
Vision
To serve, represent and advocate for educational and developmental psychologists as highly qualified professionals supporting people to learn well and live well.
We Value
Respectful practices across the lifespan
Bridging science, research, theory and practice
Lifelong learning
Practices that transform and enhance the learning and wellbeing of the clients we serve
The integration of clinical and educational practices
Flexibility in problem solving
Meaningful and ethical practices supporting clients and systems to flourish
Cultural competency, awareness, and understanding of diversity across the lifespan
Unconditional positive regard towards all people
Learn Well Live Well