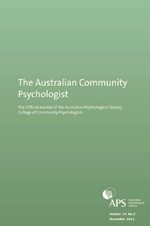 The Australian Community Psychologist
The Australian Community Psychologist [formerly Network] is the College's
refereed journal. It is published twice a year.
---
Current issue
Articles
The role of the community psychologist in preventing youth suicide and self-harm Danielle Newton and Andrew Day

"Because the Bible tells me so": Religious conservatism and gender role attitudes in Christian campus-ministry groups at public universities
Charlynn A. Odahl-Ruan, Nathan R. Todd and Midge Wilson
Historical and social contexts for confronting racism: Contextualising racism experiences across two generations of Vietnamese-Australians
Phung Ngoc Ngo and Bernard Guerin
The ethics of eMental health in Australia's Western Murray Darling Basin
Merrilyn Crichton and Oliver K. Burmeister

What works in family psychoeducation for depression? A component analysis of a six-week program for family-carers of people with depression
Pamela Brady, Maria Kangas and Katherine McGill
Psychological growth in young adult refugees: Integrations of personal and cultural resources to promote wellbeing
Anja Copelj, Peter Gill, Anthony W. Love and Susan Crebbin
Coping and preventing lateral violence in the Aboriginal community in Adelaide
Yvonne Clark, Martha Augoustinos and Merridy Malin
Preparation, Submission and Publication of Manuscripts
---
Editorial Board
Editor:

Dr Rachel Fox
Charles Sturt University

Associate Editors:

Meg Smith
University of Western Sydney, New South Wales

Tahereh Ziaian
University of South Australia

Shiloh Groot
Department of Psychology, University of Auckland

Charlotte Brownlow
Department of Psychology, University of Southern Queensland

Harriet Radermacher, Victoria
Manuscript Reviewers
If you are interested in reviewing manuscripts for The Australian Community Psychologist, please email the editors at [email protected] so that your name can be added to our Register of Reviewers.
Call for Book Reviewers
There is currently one title that is in need of review:
Ata, A. W. (Ed.) (2014). Education intergeneration challenges: The case of Australian Muslims. Melbourne, Australia: David Lovell Publishing.
Editorial information
Call for papers
Australian Community Psychologist
The Australian Community Psychologist (ACP) is a peer reviewed journal that publishes work that is of relevance to community psychologists and others interested in the field. Research reports should be methodologically sound. Theoretical or area review papers are welcomed, as are letters, brief reports and papers by newer contributors to the discipline. Contributions towards the four sections of the journal are sought. ACP is published twice per year. Usually, one issue is themed and the second is a general issue.
Articles
Contributions are sought that reflect state of the art reviews of professional and applied areas and reviews and essays on matters of general relevance to community psychologists. Manuscripts are between 4,000 and 10,000 words, including all tables, figures and references.
Research Reports
ACP encourages innovation in research and seeks manuscripts of original work that reflect the diversity of methodologies, methods and theoretical frameworks. They are between 4,000 and 10,000 words, including all tables, figures and references.
Practice Issues
This section publishes individual manuscripts and collections of manuscripts which address matters of general, professional and public relevance, techniques and approaches in psychological practice, professional development issues, and professional and public policy issues.
Book Reviews
The journal publishes book reviews of up to 1,000 words. Books reviewed relate directly to the major areas of practice in community psychology.
Review and Publication of Manuscripts
The acceptable word processing programme format is Microsoft Word. All manuscripts are to be submitted electronically to the Editors. ([email protected])
All contributions, including book reviews are handled by appropriately qualified Editors and all contributions are blind-reviewed. Articles submitted for review must be original works and may not be under consideration elsewhere.
Call for Expressions of Interest
The APS is seeking Expressions of Interest (EOI) for members of the Editorial Board for the Australian Community Psychologist (ACP), one of the Society's College journals.
Expressions of Interest close at 5pm on Thursday November 30, 2017, and should be emailed to: [email protected]
Please refer to documentation below: