WELCOME TO THE ACT&P WEBSITE
Latest news (updated 29 July 2017)
A committee meeting was held 21 July 2017. Meeting minutes will be available soon. Click here to access previous meeting minutes.
Darin Cairn's webinar - Acceptance and Commitment Therapy (ACT) & Relational Frame Theory (RFT) for Autism Spectrum Disorders (ASD) - is available to to view for $20
here
.
Contact the committee if you have activities or information to share with group members. Our next committee meeting will be held on 2 June 2017.

---
WEBINAR SERIES UPDATE
Previous webinars have been successful. Thanks to all the members who have participated. Currently we are working towards arranging further webinars.
If you have not attended a webinar previously, you will find its a convenient and great learning experience. It is also a wonderful way to engage with the presenter and have your questions answered directly. At a subsidised fee, we encourage all Interest Group members to attend.
Links to current videos (free access) are found in the Resources section of the member page.
---
ACT SUPERVISORS
We have been regularly updating our ACT Supervisors List thanks to our committee member
Charles Thermos
. If you would like to be added to this list, or would like to access this list, please contact Charles via the following email: charles@transformativepsychology.com.au
---
STUDENT PRIZE
Applications for the Student Interest Group Prize are now open! If you know any students doing ACT or RFT-related research get them on board. Applications close on 31 October 2016.
For more information click here
.
ADDITIONAL RESOURCES
If you have any relevant material for us to share with group members, please contact our website editor.
Some members have enquired about Acceptance and Commitment Therapy being a focused psychological strategy/approach recognised by Medicare. We have added an article to our resources and publications page for your benefit.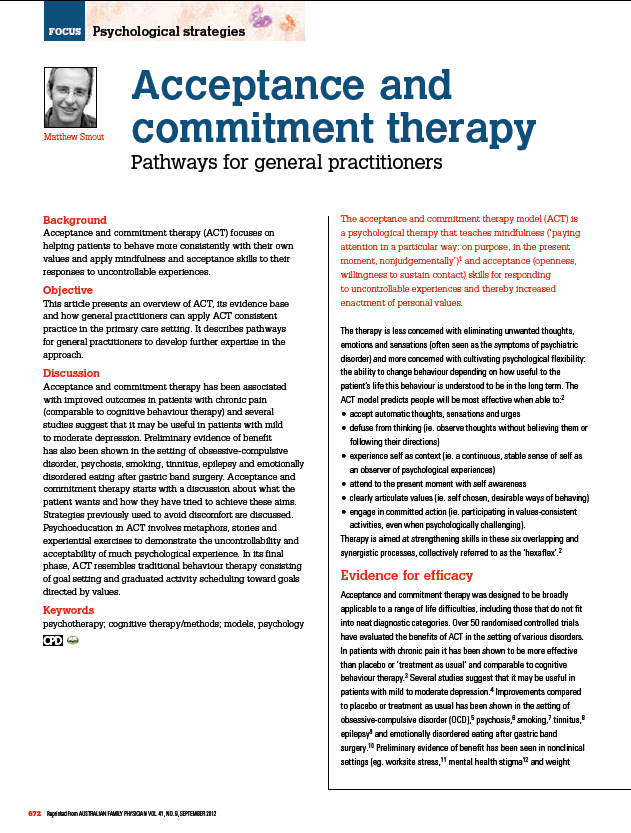 ---
last updated 16 April 2017 by Acting website editor Rachael Sim