WELCOME TO THE ACT&P WEBSITE
Latest news (updated 8 January 2019)
Kelly Wilson's webinar has been rescheduled for Friday 18th January! Please see further details below.
Our AGM was held on 30 November 2018. Thanks to all those who attended and welcome to the team Jodie Wassner. The committe continues to work hard to engage with members, promote ACT and provide learning opportunities. The ACT IG forum has also been re-instated so feel free to have a look and share relevant ACT workshops/activities
If you have any ideas, activities or information you want to share feel free to contact the committee.
Click here to access previous meeting and AGM minutes.
---
WEBINAR SERIES UPDATE
Kelly Wilson - Acceptance and Commitment Therapy: Knowing Loss, Rising and Falling and Rising Again.
Friday 18th January 2019, 12.00pm - 1:30pm AEDT
Register here or click on the picture below. Registration is open right up until the event, and even for a short time after the event for those who would like access to the recording.

Previous registrations: If you registered for this webinar previously, your registration will be transferred and you will get an email about it soon.

Webinar recording: For those who register, the recording of the webinar will be available to watch for about three months. Further details on accessing this recording will be provided after the webinar.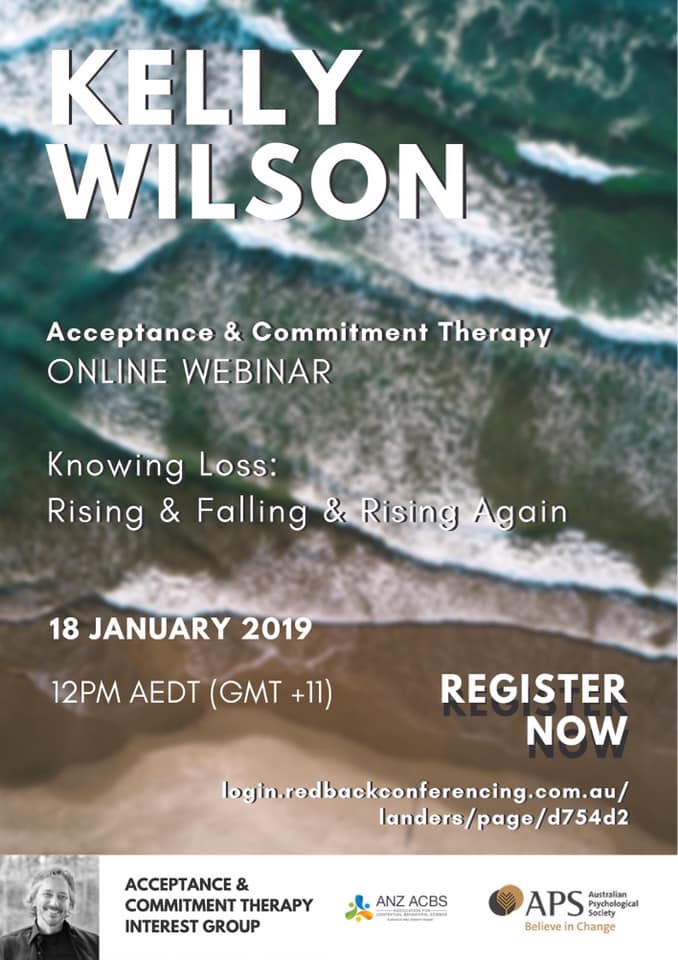 About the webinar:
To live and to become conscious is to know loss. Whether loss comes late or early, there is one certainty: eventually, loss visits every house. All of the great spiritual and literary traditions recognize the ubiquity of loss. In some ways, that is what makes them great traditions. And more, these traditions also offer guidance on how we might carry our losses.
Modern health care often has an unhealthy relationship with suffering. Suffering is too frequently treated as an illness to be removed or at least dampened in some way. But love and loss are poured from the same vessel. We cannot turn away from loss without turning away from love. And, because our losses are often tangled in the web of our social network, what we do with those losses propagates around us.
In this webinar, we will examine the grit and grain of loss. We will examine the ways that an ACT perspective can help inform the ways we receive loss, the ways we carry loss, and most importantly, the ways that our losses can enrich and inform each of our days. The webinar will use personal examples and experiential exercises to illuminate loss, possibilities, and contingencies of meaning.
Previous webinars have been successful. Thanks to all the members who have participated. Currently we are working towards arranging further webinars.
If you have not attended a webinar previously, you will find its a convenient and great learning experience. It is also a wonderful way to engage with the presenter and have your questions answered directly. At a subsidised fee, we encourage all Interest Group members to attend.
Links to current videos (free access) are found in the Resources section of the member page.
---
ACT SUPERVISORS
We have been regularly updating our ACT Supervisors List thanks to our committee member
Charles Thermos
. If you would like to be added to this list, or would like to access this list, please contact Charles via the following email: charles@transformativepsychology.com.au
SUPERVISION/INTEREST GROUPS
ACT supervision/interest groups can be found on the ANZ ACBS and ACT Mindfully websites.
PEER SUPERVISION
If you would like to get in touch with other members for peers consultation, visit the Member Directory.
---
STUDENT PRIZE
Applications for the Student Interest Group Prize are now closed! If you know any students doing ACT or RFT-related research get them on board for 2019 applications which open later in the year.

---
ADDITIONAL RESOURCES
If you have any relevant material for us to share with group members, please contact our website editor.
Some members have enquired about Acceptance and Commitment Therapy being a focused psychological strategy/approach recognised by Medicare. We have added an article to our resources and publications page for your benefit.
---
last updated 11 December 2018 by website editor Rachael Sim