We are excited to announce the 2019 postgraduate student offer of complimentary APS student membership for 2019-20, including one free APS Student College membership to postgraduate psychology students who are new to the APS.
In summary, the offer is:
Available to new applicants to the APS, who are currently enrolled in an APAC-accredited fifth year, or fifth and sixth year psychology degree, or a postgraduate research degree in psychology.
Not available to any applicants that have previously held or currently hold APS membership.
Full-time students of an APAC-accredited degree or a postgraduate research degree in psychology that have previously held or currently hold APS membership pay the $55 student rate.
We are committed to the next generation of clinical psychologists and warmly invite you to join us - more than 1000 of your fellow students already have.
Joining the APS College of Clinical Psychologists can make all the difference to your journey toward becoming a clinical psychologist.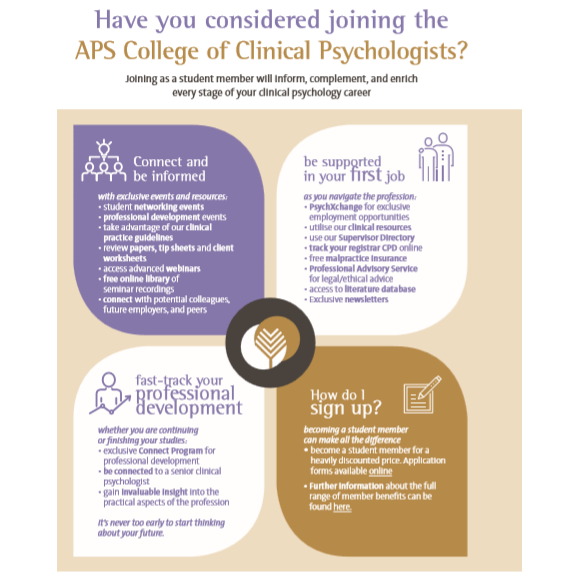 Why join?
Get connected with exclusive networking events, meet mentors, online discussion forums, and our Connect Program where you receive career guidance from an experienced clinical psychologist.

Stay informed with heavily discounted professional development events, online webinars, clinical guidelines, access to journals, and exclusive newsletters keeping you up to date with the fast-changing world of clinical psychology (e.g., Medicare and NDIS).
Feel supported with a Phone and E-mail Advisory Service to help with study, Medicare, the registrar program, and professional practice queries.
Become employed with PsychXchange which sends job opportunities straight to your inbox, many of which aren't advertised elsewhere.