Committee Information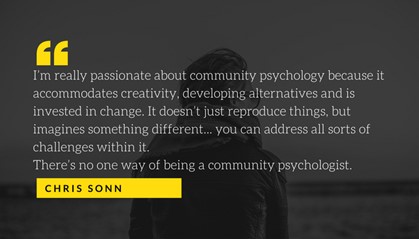 The College of Community Psychologists seeks to bring members and students together for networking, peer support, supervision and professional development. We would love to see more Community Psychologists across Australia - if you are interested in forming a committee in your state, please reach out to the National Committee. For details of state and territory activities, and membership of state section committees, see below.

College of Community Psychologists National Committee
Below are details of the current committee and vacancies. The APS is always on the look out for members who are interested in joining a Member Group committee, to help support and promote members, the profession, and the APS. For more information about joining a Member Groups committee, click here.
Have questions? Please feel free to contact committee members via PsyCommunity direct message here or reach out to APS Member Groups via [email protected].
Chair
Dr Peter Streker
Phone: 0416166296
Peter has specialised in implementing individual, group & community-based interventions across various sectors, such as family violence (inc. prevention & gender equality), anti-racism, homelessness, street sex work, alcohol & drugs for over 25 years. He combines therapeutic work with professional supervision & workshop development. He has trained thousands of professionals to work with complex trauma (via Blue Knot Foundation).

Peter's PhD was published as a book I Wish That He Hit Me: Working with psychological & emotional abuse. Peter completed a report for Our Watch & NTV/MRS on methods workplaces can implement to manage employees who have perpetrated violence against women (Rec 192 Vic Royal Commission into FV), co-authored the Practice Guidelines for Men's Behaviour Change Programs and helped the Aust Human Rights Commission develop their Workplace Cultural Diversity tool. Peter is a Senior Fellow at the Dept of Psychiatry at the Uni of Melbourne.
Secretary
Dr Lynette O'Grady
Treasurer
Ms Monika Naslund
Phone: 03 9919 8739
I am a registered psychologist (AHPRA) with endorsement in Community and Counselling psychology, and hold a tenured position as Senior Lecturer in Psychology at Victoria University (VU). At VU, I Co-chair and provide a major teaching role in the Master of Community Psychology program, and hold the position of Director of the VU Psychology Clinic. For 30 years, I have provided specialist services across a wide spectrum of trauma-related areas in international, national, regional and local settings. My special interests and experience include psycho-traumatology, psychosocial response in emergency settings and trauma-focused care. I have gained experience as a direct provider of psychological services, advocacy, training and policy development through various positions within the United Nations (The Netherlands), Public Health sector (Sweden), Non-Government Organisations and Tertiary institutions (Australia).
MAPS, MCCOMP, MCCOUN
Committee Member
Ms Heather Gridley
Phone: 0419113731
I am a community and counselling psychologist with more than thirty years' experience in community health and higher education, as well as a decade within the APS National Office as Manager of Public Interest. I am currently an Honorary Fellow at Victoria University. The focus of my work over that time has been on maximising psychology's contributions to community wellbeing and social justice. I have a keen interest in supporting a new generation of feminist and community psychologists.
Committee Member
Dr Renzo Vittorino
Committee Member
Ms Helen Killmier
Helen is the founder, CEO and Principal Psychologist at Guidestar.

Guidestar is a NDIS registered service providing psychology and Positive Behaviour Support services to people with dual disability and mental health issues across Victoria. Guidestar is also a private clinic and provides specialised training.

Helen has extensive previous experience in executive leadership roles within the local government and NFP sectors including disability, homelessness, alcohol and other drugs, justice, forensic and mental health services.

An experienced board member, Helen has chaired several community services organisations and is a graduate member of the Australian Institute of Company Directors. Her research interests are dual disability, sense of community, place attachment and community wellbeing.
ACP Journal Editor
Dr Rachael Fox
ACP Journal Editor
Dr Peter Gill
Committee Member
Mrs Patricia Shaw
Phone: 0754853178
Successfully completed Bachelor of Science (Criminal Justice) at Roger Williams College (USA);
Successfully completed Associate Degree In Welfare Studies at Monash University, Melbourne,
Successfully completed Master of Arts (Psychology), University of Massachusetts (USA)
Successfully completed BCIA EEG Biofeedback Neurofeedback in a Clinical Practice
Successfully completed BCIA Board Certification in Neurofeedback
v Coordinated and supervised residential programs for homeless youth that facilitated the successful integration of these programs into the local community.
v Supervised the implementation and subsequent processing of temporary leave applications for maximum-security prisoners resulting in the effective re-integration of inmates into the community.
v Coordinated the development and implementation of community education and counselling programs within the substance abuse area, resulting in the effective integration of clients from the program into the community.
Committee Member
Ms Reanna Clark
Reanna is an early career Psychologist (Community Registrar), working in service development and program evaluation in the community health sector, supporting the delivery of alcohol and other drugs and mental health programs. Previously, she has worked in the public sector in both Australia and the United Kingdom. Reanna has a keen interest in participatory research and evaluation, social justice, and rural/regional health.
Committee Member
Ms Elise Bryant
I am passionate about the interconnectedness of individual wellbeing and healthy, vibrant communities. I am a practicing psychologist at CentacareFNQ, a local community organisation. I also work at the community level with organisations who are challenging the climate crisis through community organising, such as the Cairns and Far North Environment Centre (CAFNEC) and Psychology for a Safe Climate (PSC). I approach my practice with a keen interest in individual and collective empowerment for transformative change. Specific interest areas include environmental psychology and decolonising praxis.
Committee Member
Ms Ridhima Tandon
Committee Member
Dr Jennifer Rice
Committee Member
Dr Meg Smith
Committee Member
Dr Lauren Breen
Lauren Breen is a Professor of Psychology and Discipline Lead of Mental Health Psychology at Curtin University, Perth, Australia. She is a Fellow of the Australian Psychological Society; a Fellow in Thanatology: Death, Dying and Bereavement; a member of the International Work Group on Death, Dying and Bereavement; and Managing Editor of Death Studies. In 2022, she received the Research Recognition Award from the Association for Death Education and Counseling (USA). Lauren is on the Board of Grief Australia and Lionheart Camp for Kids. She recently delivered a TEDx talk on grief and is co-editor of the forthcoming Routledge International Handbook of Child and Adolescent Grief in Contemporary Contexts. She led a team that developed the concept of grief literacy and co-developed the public health model of bereavement support, both of which influence policy and practice internationally.
Chair
NSW
Dr Meg Smith
Chair
QLD
Position vacant
Chair
VIC
Mr Benjamin Moberley
Ben Moberley is a Community Psychologist working in mental health and disability. Currently chair the Victorian section of the College of Community Psychologists and involved in the national committee also.
I'm keen to work with like minded psychologists and other allied health to promote further professional development and interdisciplinary work for the benefit of both the College and also my practice.
Please do reach out if you have any questions or would like to be involved in any of the functions of the College.
Chair
WA
Position vacant