The Youth for Peace Project Award 2017 Winners
The Youth for Peace Project Award is a national award made annually and administered by the PfP Victorian Subcommittee. Eligible to groups of 3 or more young people aged 12-18 living in Australia, this Award encourages and recognises innovative group projects that address current social issues around peace and conflict using psychological knowledge and strategies. This was the first year we offered the Award, and we were very impressed by the high calibre of applications we received. We are pleased to announce our 2017 Youth for Peace Project Award winner from New South Wales – Jason (Caitlin) Mason, Celia Connolly and William Todman. Submitting a creative, courageous and innovative project titled LGBTQ+ United Youth, Jason, Celia and William sought to address the lack of representation and accurate information concerning LGBTQ+ identities and the damaging mental health implications on LGBTQ+ youth. They produced educational videos with positive information about LGBTQ+ identities, created an online community and offered their support during the plebiscite. The group also raised money for The Pinnacle Foundation, an organisation that supports LGBT+ youth who are disadvantaged. Jason, Celia and William received $1000 in prize money, and showed commitment to continuing their project.
We wish to congratulate Jason, Celia and William for winning first prize!
Please view and share their videos and online content that is publicly available via the following links:
https://lgbtunitedfilm.wixsite.com/lgbt-united
https://www.youtube.com/playlist?list=PLUml7zeLVd5cNNaxzr2Q41gvReYvnWTxM
https://www.instagram.com/lgbt.unitedfilm/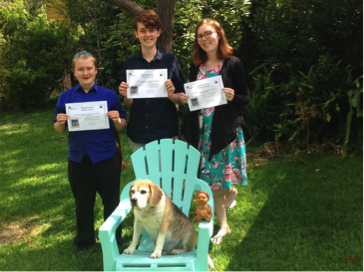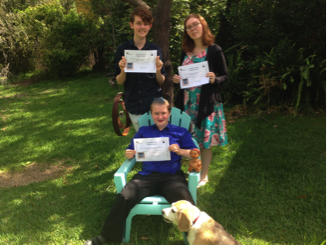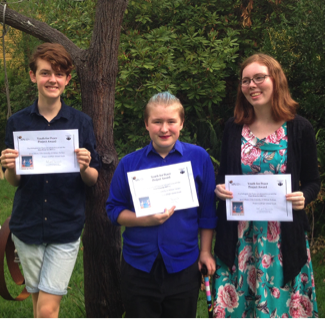 Photo to the left, from left to right:
Will, Jason and Celia
Above pictures include Monty, the dog!
Our Selection Committee would also like to congratulate the two groups that were awarded Highly Commended Certificates and $500 for their projects promoting peace in the community:
From the State of Victoria, Miray Babawi, Meron Desta, Masho Tsegay, Mekides Zenebe, Fardin Jaberi and Miykail Maqdas raised awareness of the needs of refugees within their school, collected donations from the student body and subsequently donated essential necessities including sanitary pads, tampons, toothbrushes and other hygiene products to asylum seekers at the Asylum Seeker Resource Centre. They presented their project, Donations to the Asylum Seeker Resource Centre, to staff and students at their school and also inspired another club within the school to carry out a similar project.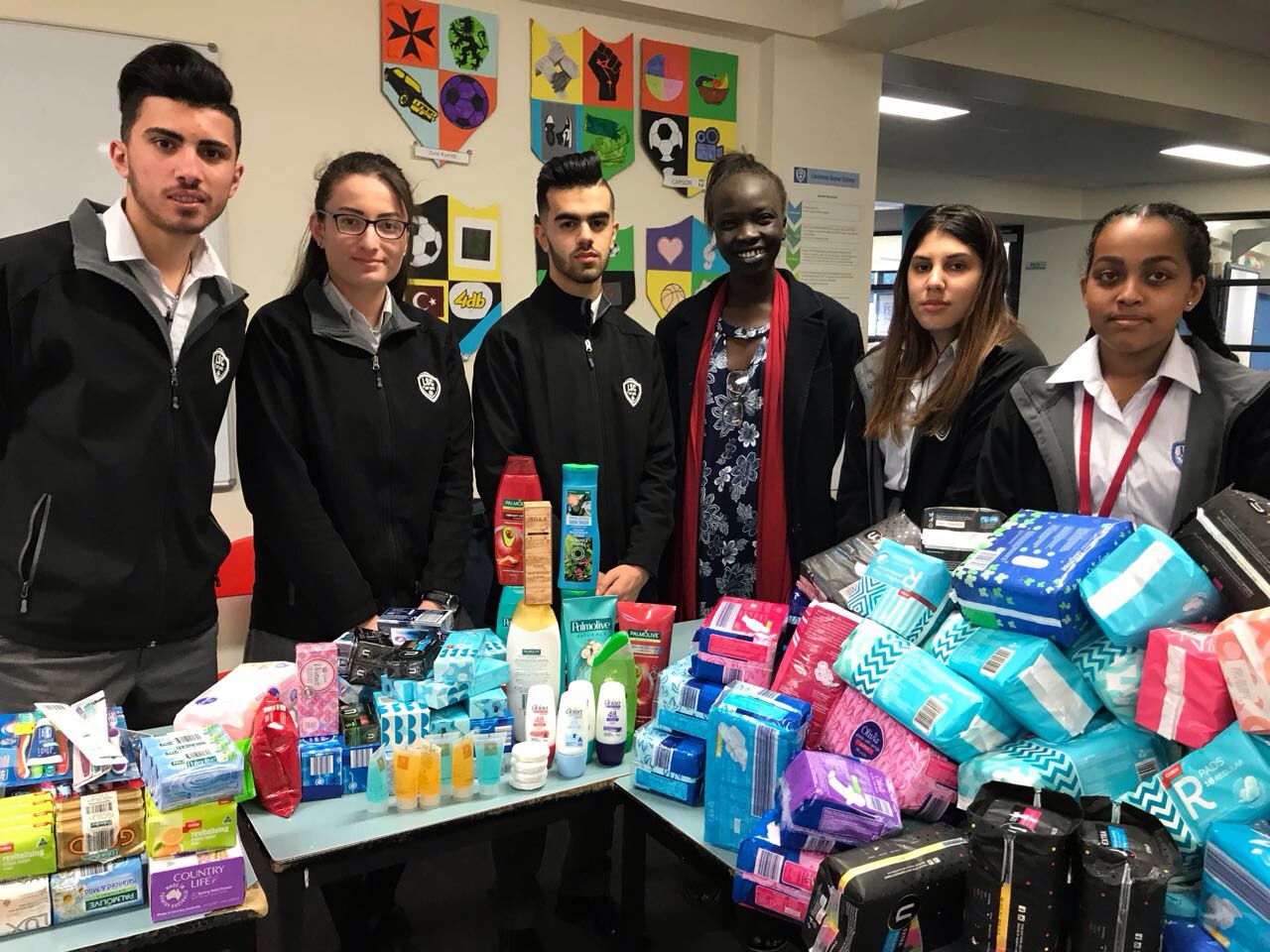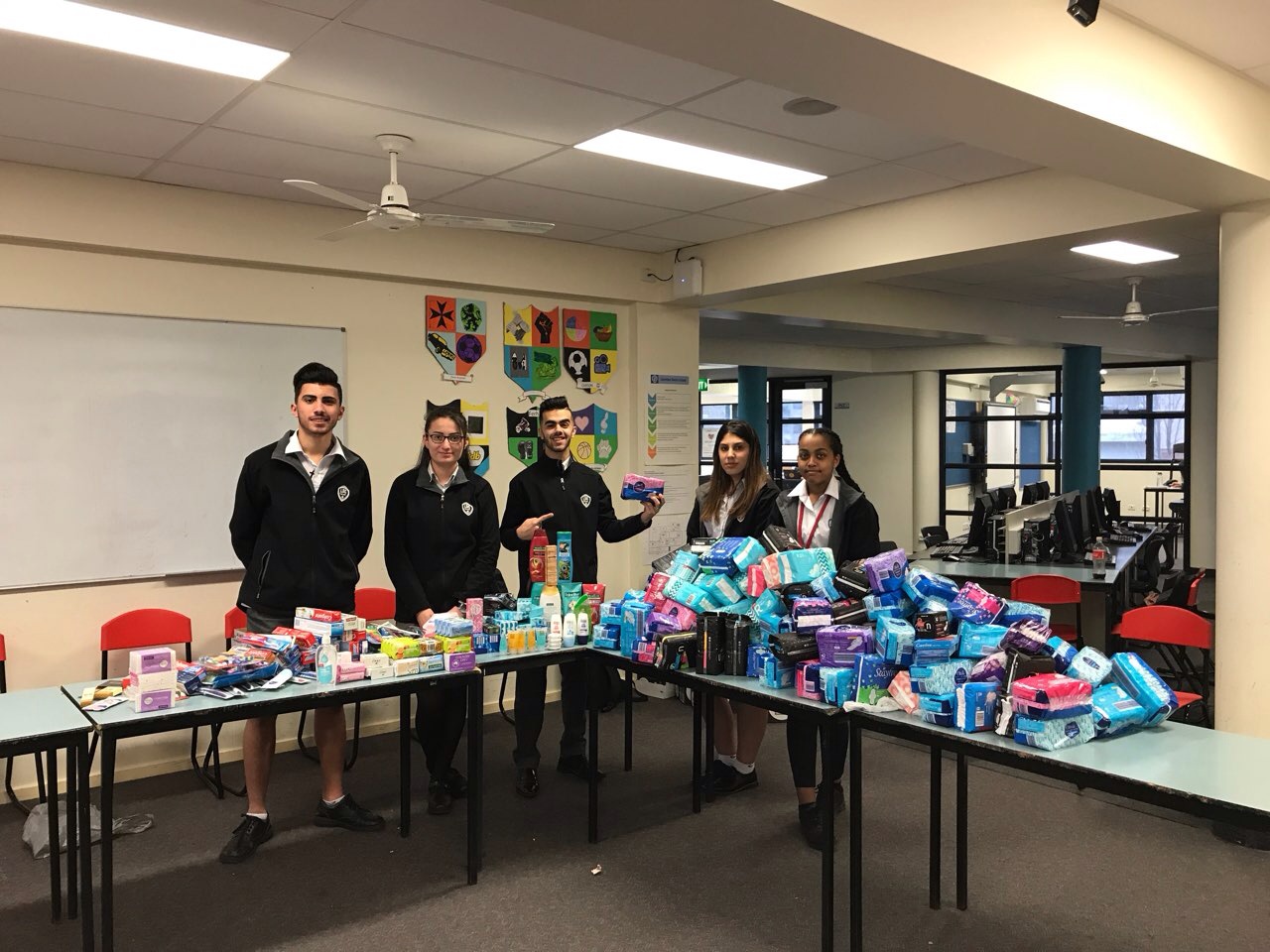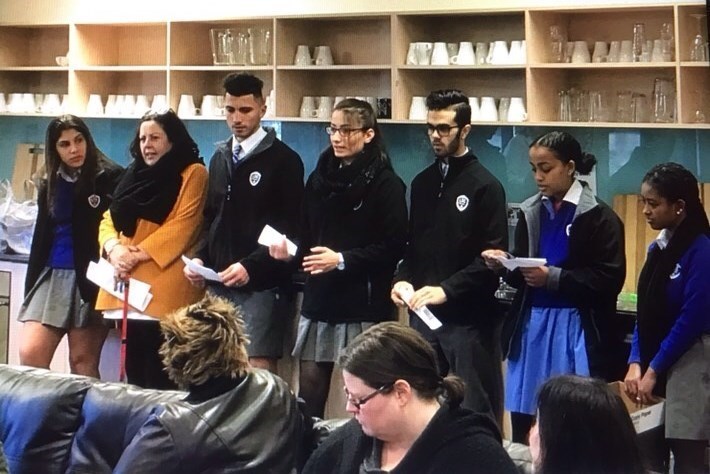 Elizabeth Laughton, Erin Branagh and Sophia Branagh from Asquith High School Girls in New South Wales held a Pride Week at their school to address the lack of inclusion and sense of belonging communicated by the LGBTI+ community at their high school. This group raised awareness of LGBTI issues and promoted acceptance within their school community. They also created a Snapchate pride story and collected donations for twenty10, an organisation that offers specialised services to LGBTI youth in NSW.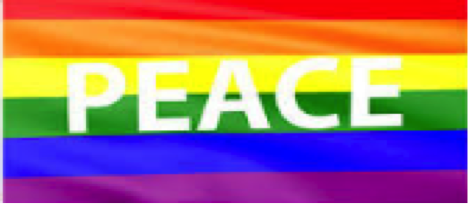 All three prize-winners used a range of resources to carry out their projects successfully including APS resources and tip sheets, and the groups also drew on psychological models including Maslow's Hierarchy of Needs and the PERMA model.
We trust that their projects will serve as a source of inspiration for our 2018 applicants!