The 2022 Youth for Peace Award is now open to teams of young people aged 16-24. The 2022 theme is Creating a Campaign for Climate Action. Teams are encouraged to be creative. Young people interested in applying should read the Application Form for further details. A Resource List, including those produced by PfP and other APS groups, is provided and teams are encouraged to find other resources to develop their projects.

Past Youth for Peace Award Winners
2021 Youth for Peace Award
The 2021 theme for the award was The Climate Crisis is a Peace Issue. The Selection Committee was impressed with the calibre of applications received and noted the passion and creativity demonstrated by all applicants in their campaigns to promote greater awareness about the climate crisis. Thank you to everyone who participated and congratulations to the Award winners!
Winner: Marat Schegeni, Yuji De Vera and Mikalea Fernandez
Climate Injustice: The Psychology Behind Our Inaction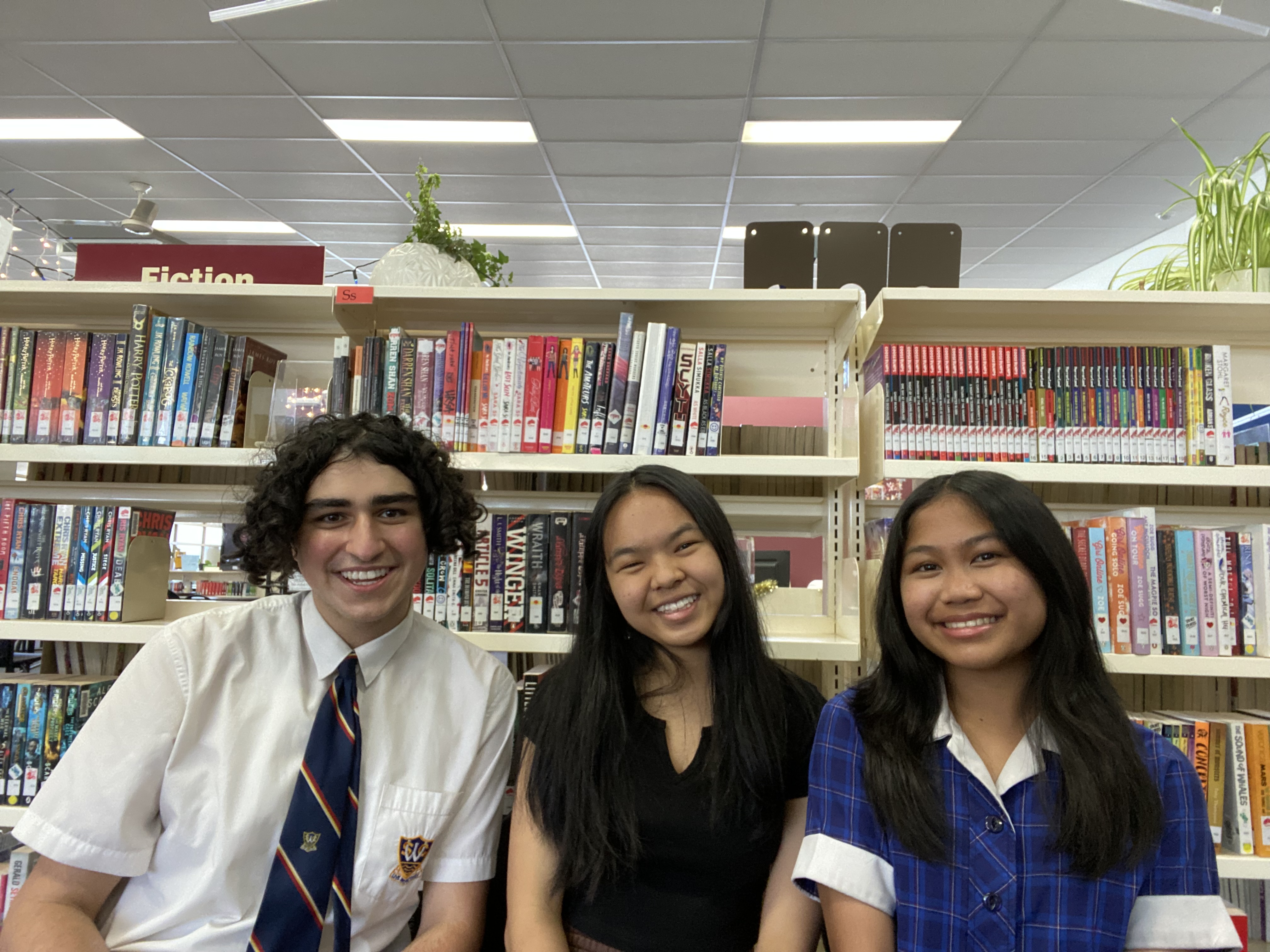 This team of 16-year-old Werribee Secondary College students have created a video that clearly explains to teenagers and young adults the concept of climate injustice and the psychological barriers and biases contributing to inaction. The animation provides a timely global perspective on the impact of climate change by comparing topical events in Australia with more serious and overwhelming events impacting on other countries.
Highly Commended Award: Adele Roeder, Carla Perrone, Bridget Kennedy, Tiana Ciavarella, Sophia D'Aspromonte, Zoe De Silva Abeyewickreme, Florence Cooper, Catherine Nicolaci and Lara Yildiz
The Future is in Our Hands: A Call for Climate Action

This team of students aged 13-18 from the Environment, Social Justice and Liturgy groups at St Columba's College created a photo journal aimed at young people aged 12-25, highlighting that that young people acting together can undertake small and tangible actions to achieve significant change.
Highly Commended Award: Alexia Ritzert, Bliss Pengilly, Maddi Torpey, Ella Bater, Laura Crothers, Sarah Donlon and Kate Girvan
Climate Change Awareness and Solutions
Alexia Ritzert (left), Maddison Torpey (back) and Bliss Pengilly (right), three of the members of the team
This team of students aged 16-17, from the Kilbreda SEALs (Student Environmental Action Leaders) at Kilbreda College created a series of Tiktok videos for a campaign to inform young people about range of practical, environmentally friendly actions that they can take to address the climate crisis.
2020 Youth for Peace Award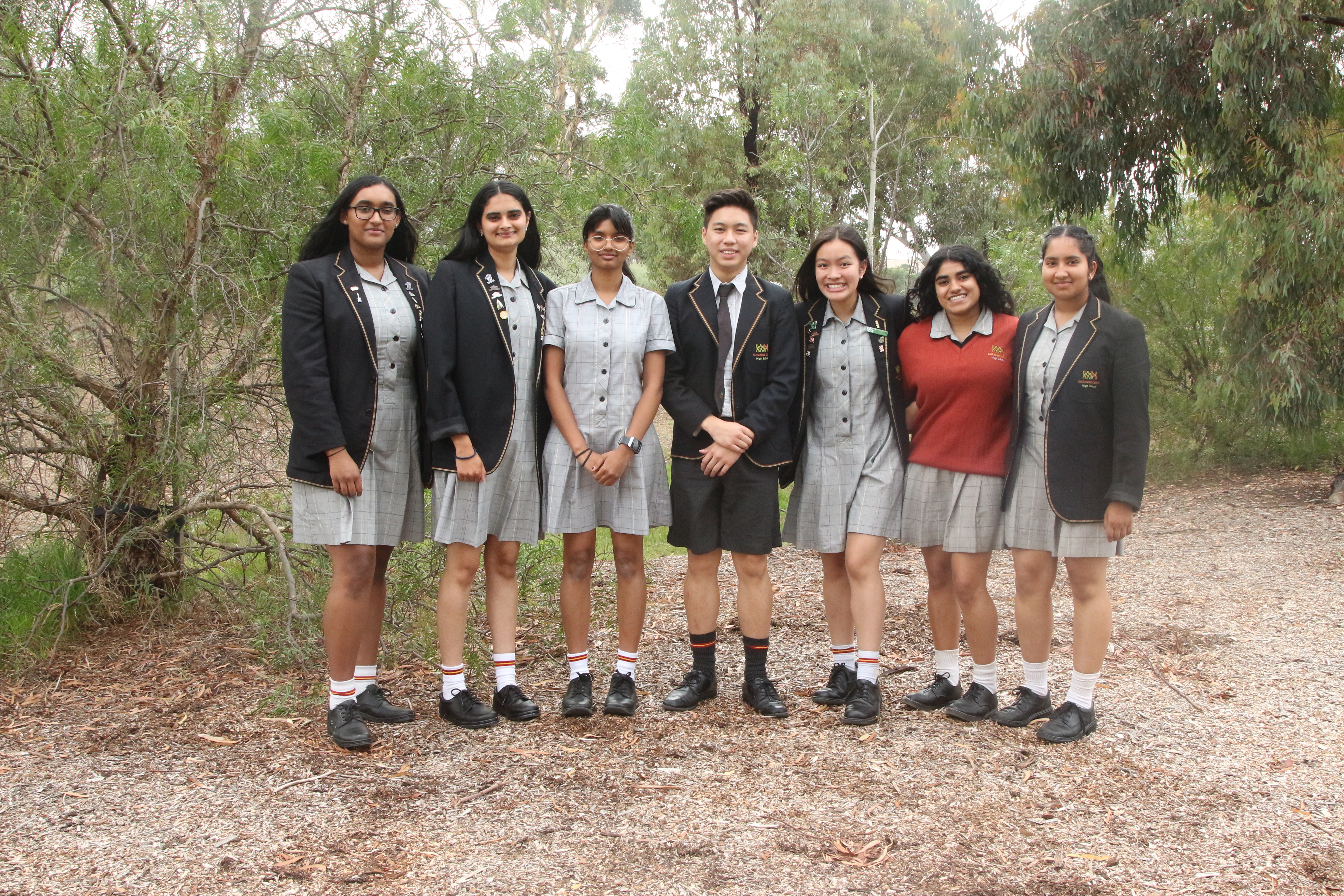 Winner: Shimara Jayasinghe, Esha Bhatia, Yuvani Thanawala, Charlie Vu, Jenny Tran, Lakshani Obesekera Herathge & Jyotsna Ganesan
This winning team of seven students, aged 16-17, from Suzanne Cory High School's environmental group Ecocore, developed a campaign directed at young people aged 10-18 years. The team created Stressed About Sustainability, a video explaining climate issues to other young people with a call to action through climate activism to make positive changes for the future.
Highly Commended: The Grade 6 students from Reservoir West Primary School
The 2020 class and their mentor Jorge Leiva developed a catchy rap song, Amazong, supported by colourful artwork, to educate young people and others on the importance of the Amazon rainforest to the Earth's sustainability and to raise awareness of the threats currently facing it. Listen to the song and read about the campaign here.
Highly Commended: Gwen Green, Meg Ireland, Thuvaragga Peter of John Forrest Secondary College
This team of three young people, aged 13-14 years, created the Let's Take Climate Action podcast, the first in a series of podcasts, to educate people, particularly parents, on what changes they can make to help limit environmental damage and mitigate climate change.
2019 Youth for Peace Award
Award rested
2018 Youth for Peace Award
Winner: The Rainbow Project - Bishop Druitt College
The Youth for Peace Award encourages young people to undertake a project that seeks to build peace – at school, in their families or communities, or globally. Students from Bishop Druitt College completed 'The Rainbow Project', an undertaking that raised awareness of the issues faced by LGBTQI students at their school. The group worked to develop an impressive art installation, and organised weekly meetings for students to come together with the aim of building a sense of belonging and community within the school. The group's work received the support of the school principal, their teachers and the school counsellor, and has led to other school projects promoting human rights and harmony within the school.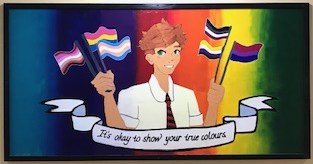 Highly Commended: Messengers for Peace - Emily Hoswell, Anne Alards, Sophie Alards, Phoenix Teasdale, Thomas Gorman, Rhyley McCabe (1st Kiama and 1st Jamberoo Venturer Scouts)
This group of young people sought to reach out to their disadvantaged peers in Peru and support them and their communities remotely through the provision of 'hygiene bags' (bags containing a range of hygiene products). The project aimed to build understanding and empathy, breaking stereotypes of other cultures, and helping young people identify with others across borders. The young people engaged with others in the community to communicate and educate them on the needs of the Peruvian community developing empathy amongst others as they sought contributions for inclusion in the hygiene bags.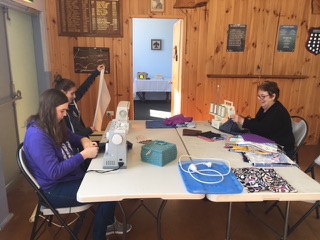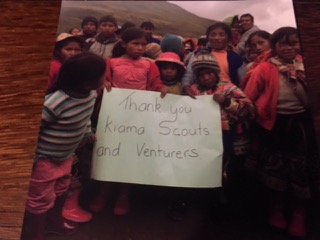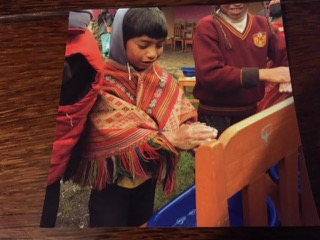 2017 Youth for Peace Award
Winner: LGBTQ+ United - Jason Mason, Celia Connolly and William Todman
We were very impressed by the high calibre of applications received in the inaugural year of the Award. We were pleased to announce Jason Mason, Celia Connolly and William Todman fron New South Wales as the 2017 Youth for Peace Award winners. Submitting a creative, courageous and innovative project titled LGBTQ+ United Youth, Jason, Celia and William sought to address the lack of representation and accurate information concerning LGBTQ+ identities and the damaging mental health implications on LGBTQ+ youth. They produced educational videos with positive information about LGBTQ+ identities, created an online community and offered their support during the plebiscite. The group also raised money for The Pinnacle Foundation, an organisation that supports LGBT+ youth who are disadvantaged. Jason, Celia and William received $1000 in prize money, and showed commitment to continuing their project. Please view and share their videos and online content that is publicly available via the following links: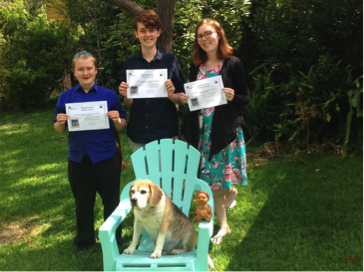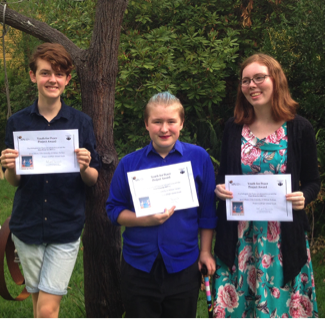 Highly Commended: Donations to the Asylum Seeker Resource Centre Project - Miray Babawi, Meron Desta, Masho Tsegay, Mekides Zenebe, Fardin Jaberi and Miykail Maqdas
Miray, Meron, Masho, Mekides, Fardin and Miykail raised awareness of the needs of refugees within their school, collected donations from the student body and subsequently donated essential necessities including sanitary pads, tampons, toothbrushes and other hygiene products to asylum seekers at the Asylum Seeker Resource Centre. They presented their project, Donations to the Asylum Seeker Resource Centre, to staff and students at their school and also inspired another club within the school to carry out a similar project. They were awarded Highly Commended Certificates and $500 for their projects promoting peace in the community.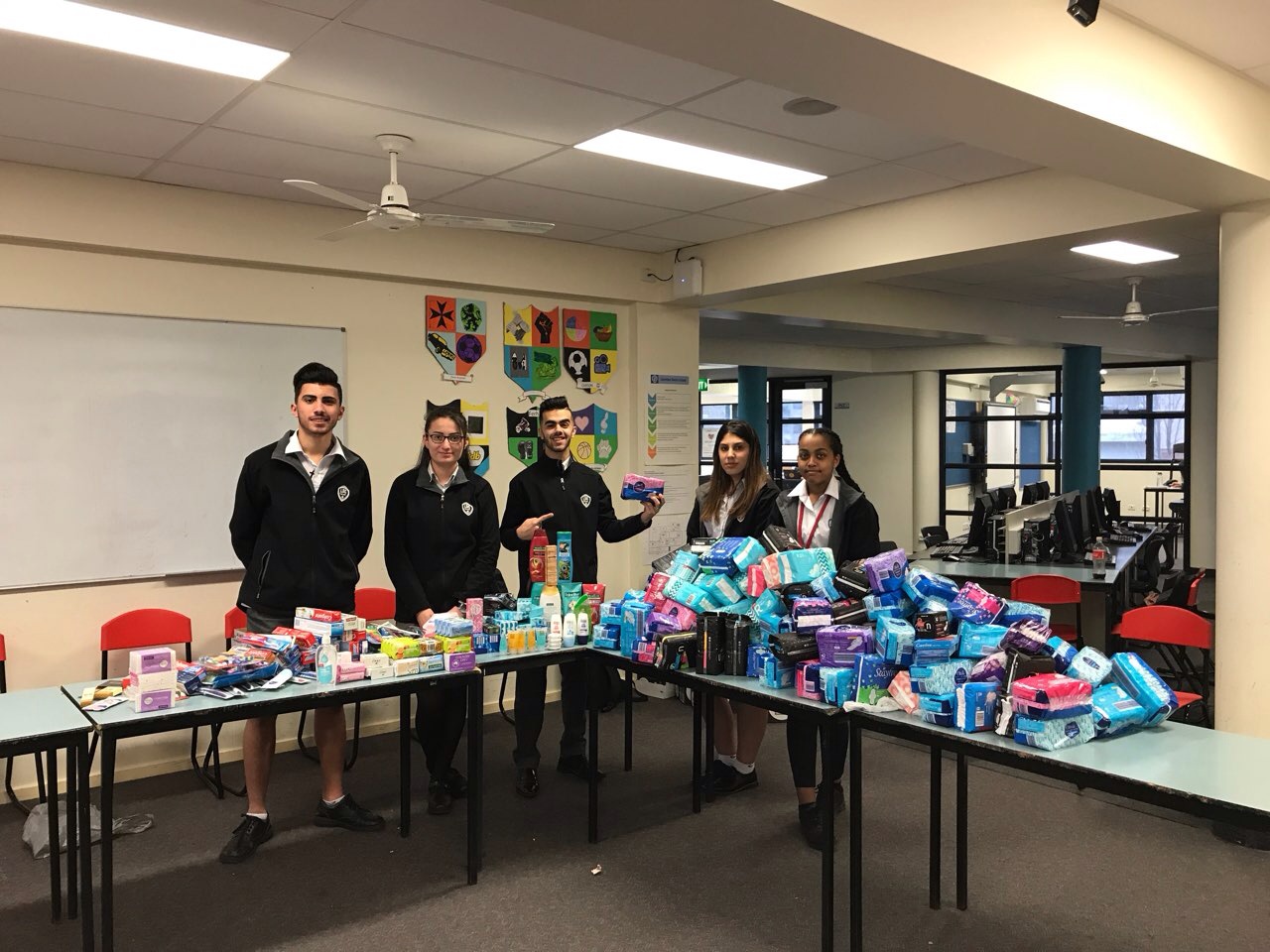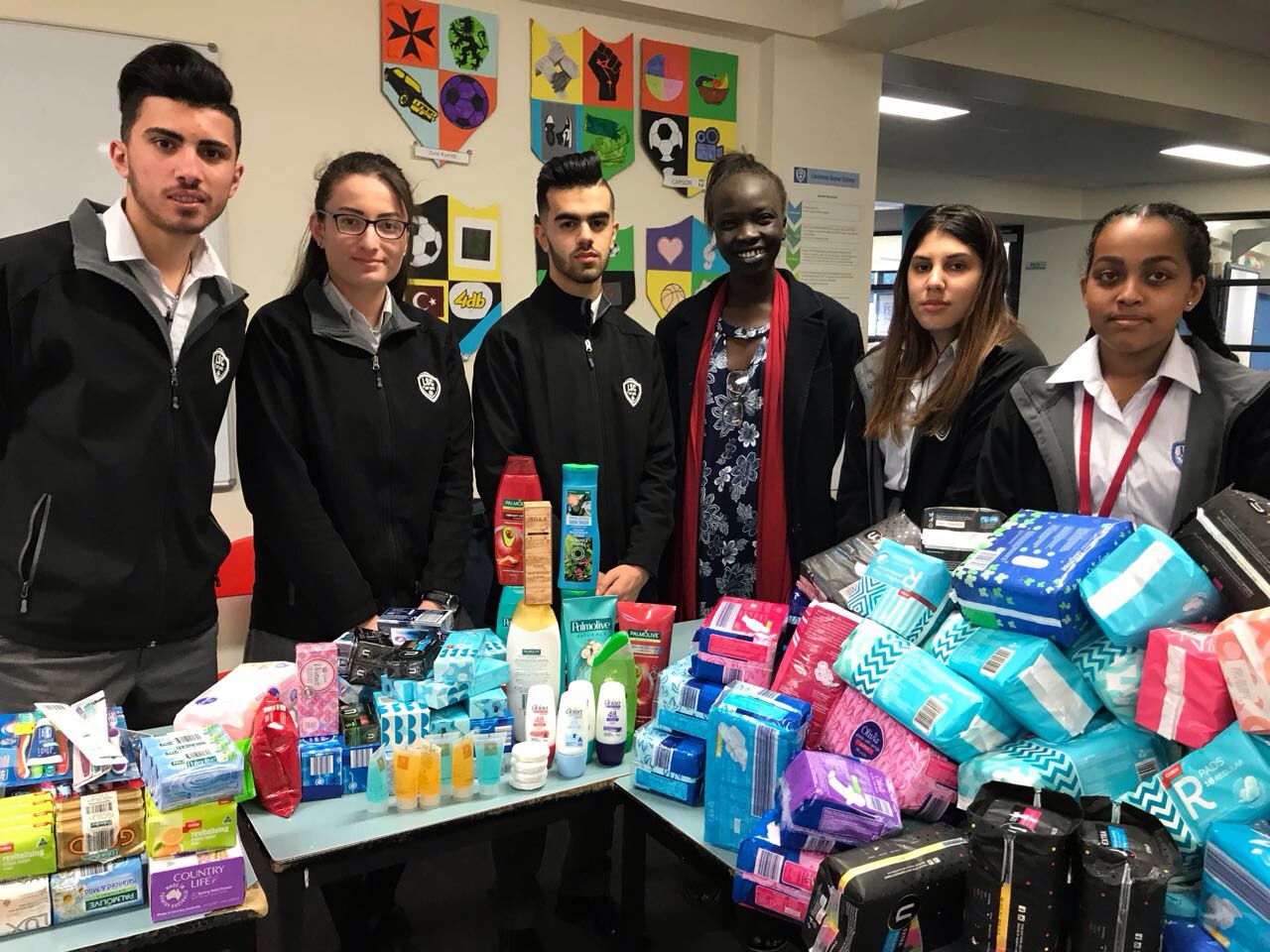 Highly Commended: Pride Week at Asquith Girls High School - Elizabeth Laughton, Erin Branagh and Sophia Branagh
Elizabeth, Erin and Sophia from Asquith Girls High School in New South Wales held a Pride Week at their school to address the lack of inclusion and sense of belonging communicated by the LGBTI+ community at their high school. This group raised awareness of LGBTI issues and promoted acceptance within their school community. They also created a Snapchate pride story and collected donations for twenty10, an organisation that offers specialised services to LGBTI youth in NSW.
All three prize-winners used a range of resources to carry out their projects successfully including APS resources and tip sheets, and the groups also drew on psychological models including Maslow's Hierarchy of Needs and the PERMA model.