For more news and updates, follow Psychologists for Peace on Facebook and Instagram.
Applications for the 2022 Youth for Peace Awards now open
28 March 2022
Find out the details on the Youth for Peace Award page.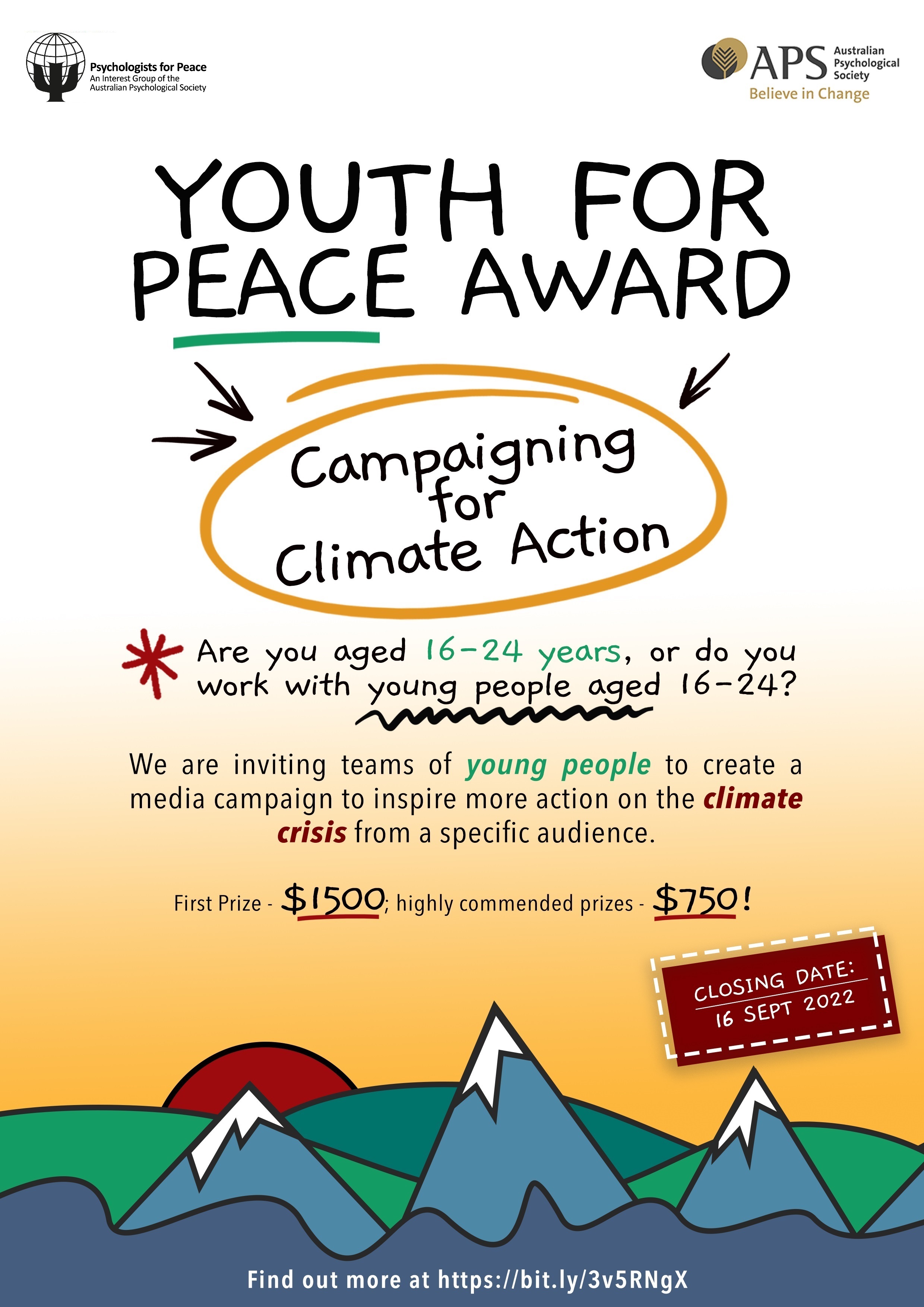 Psychologists for Peace statement on Ukraine
25 March 2022
Psychologists for Peace have put together a statement on the current conflict in Ukraine. Read it here.
2021 Youth for Peace Award winners announced!
2 December 2021
Congratulations to Marat Schegeni, Yuji De Vera and Mikalea Fernandez of Werribee Secondary College, who won the 2021 Youth for Peace Award with their video Climate Injustice: The Psychology Behind Our Inaction.
Highly commended awards go to the Kilbreda SEALs (Student Environmental Action Leaders) and to the Environment, Social Justice and Liturgy groups at St Columba's College.
The 2021 theme was Creating a Campaign for Climate Action and the award was open for young people aged 16-24. Find out more about the winners here.
Video recording of the PfP International Day of Peace event is online
21 September 2021
Psychologists for Peace held an online event for the International Day of Peace on 21st September, with PfP members presenting on their research on peace and mental health. Ariane Virgona (winner of the PfP Peace Research Award in 2019) discussed how polyculturalism, a novel ideology that focuses on mutual influences between cultures, can increase positive and meaningful intercultural engagement. Professor Ann Sanson discussed her current work examining the impacts of climate change on children and young people.
Release of the Wise Ways to Win video for children
26 May 2021
PfP have released a video version of their children's book Wise Ways to Win, focussing on helping children learn how to resolve conflict cooperatively and creatively. Visit the Wise Ways to Win page here.
PfP member Dr Winnifred Louis launches Psychology of Change Youtube channel
16 May 2021
PFP member and social psychology Dr Winnifred Louis has launched a new Youtube channel through the Social Change Lab. The Psychology of Change channel's first video series is "How To Create Change Using Learnings from Social Psychology".
To see the entire Psychology of Change channel click here.
To find out more about Social Change Lab click here.
2020 Peace Research Award winner announced!
24 March 2021
Congratulations to Erin Geary, winner of the 2020 PFP Peace Reseach Award for their thesis, "Online Learning During the COVID-19 Pandemic: Does Social Connectedness and Learning Community Predict Self-Determined Needs and Course Satisfaction?"
PfP member shares their resources on adapting to crisis during COVID-19
06 June 2020
Global issues like the COVID-19 pandemic are peace issues too. Peace psychology can help us navigate these problems. Dr Winnifred Louis, Queensland Coordinator for PfP and Professor at UQ School of Psychology, has shared their videos on adapting to crisis and avoiding explosive conflict for PfP.
Further resources on coping with the impacts of COVID-19 on mental health and the psychology sector can be found on the official Australian Psychological Society page at https://www.psychology.org.au/COVID-19-Australians.
New video resource from the International Campaign to Abolish Nuclear Weapons (ICAN)
18 May 2020
The International Campaign to Abolish Nuclear Weapons (ICAN) won the Nobel Peace Prize in 2017 "for its work to draw attention to the catastrophic humanitarian consequences of any use of nuclear weapons and for its ground-breaking efforts to achieve a treaty-based prohibition of such weapons." After the ICAN Paris Forum (14-15 February 2020), they have put out a new video resource on creating global change.